...do keep up. 'Wig!' denotes something so stunning / exciting / crazy that it blew your wig off. It's way beyond 'chapeau!'...Haven't heard of that either? Girl, pls

AMAS BALMAIN - 'TaylorSwift wears #BALMAINEPISODE's dress and boots to the #AMAs red carpet and center stage' : yvenggg msg 'Is it just me? Thinking that I could have designed a less ugly pair of shoes', anyway moving on....
Balmain Instagram

...Balmain Episode : 'The new women's capsule offering that incorporates the rebellious spirit of the men's FW18 offerings and the mastery and refinement that one expects from an historic Parisian house'
Balmain SS19 Episode

AMAS J.LO - you love Jennifer Lopez at the AMAs : 'I have absolutely zero words' so...
AMAs Instagram

...let's go down below : 'Serving looks...on a Tuesday'
J Lo Instagram

AMAS RED - Mariah Carey in red fishtail number at the AMAs but did it impair her ability to move during performance of 'With You'? Apart from her left arm, that is...
AMAs Instagram

...you decide : Terence Asongwed msg 'People claim Mariah wasn't moving during this performance. They really have no idea how many moving parts the performance had. Between the background singers, the backtrack and her lead vocals, there were so many vocal acrobatics going on, on that stage. She may have stood still but she moved us all'
Maruah Carey

LOVELY RITA - 'When I caught a glimpse of Rita' (Beatles) : Rita Ora cover for CLASH magazine. Great gloves!
CLASH Instagram

SHE'S A RAINBOW - 'She comes in colours everywhere' (Rolling Stones). Rita Ora in Prabal Gurung at Red Carpet Fashion Awards : amongtheappletrees msg 'She looks so pretty when she dresses like this' but...
Red Carpet Instagram

...Rita wearing skirt and top combo so Vizual Ninja msg 'I kinda wish she did wear it as presented on the runway, the full rainbow is overwhelming' and JHH msg 'I love color but this skirt needed a solid color top. What she has done takes the skirt to the circus'. Check the runway look at 1:01 into the vid below…

RUNWAY - that's supermodel Winnie Harlow at 1:25 in Spring / Summer 2019 collection from Nepalese American designer Prabal Gurung : sophia1501145 msg 'gorgeous collection! i started to get a bit uninterested in the middle of the runway but that gorgeous purple dress was like a pivit point in the show, everything after was drop dead gorgeous'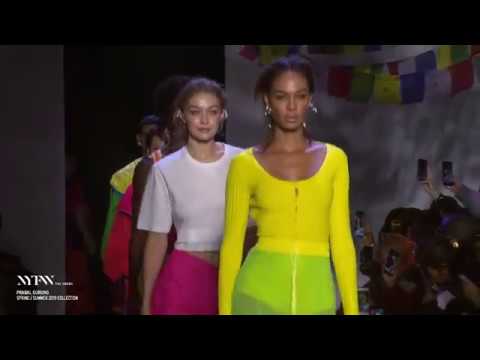 Bayoucool2

SUPERMODEL - Winnie Harlow (real name Chantelle Brown) has a long-term condition called vitiligo (caused by lack of melanin) where pale white patches develop on the skin
Winnie Harlow Instagram

BEFORE BBL - Bianca Gascoigne pre Brazilian Butt Lift : samross81 msg 'Don't do it your arse is perfect'
Bianca Gascoigne Instagram

AFTER BBL - Bianca Gascoigne post Brazilian Butt Lift : tjh8419 msg 'I'm really sorry to say as I'm a fan and have your calendar and I preferred you before. But it's not about my opinion as long as you're happy'
Bianca Gascoigne Instagram

RED HOT - fab at 40 Alesha Dixon borrows from Baywatch to celebrate her b-day : zena_u.k msg 'Happy Birthday Beautiful! 🎈 ..Like fine wine ❤️', btw the cossie is...
Alesha Dixon Instagram