SLEB SURGERY - busy times for celebrity surgery fans. Andy Murray hip op is resurfacing rather than the more serious THR (total hip replacement). Click right for the X-ray. He could be back for Wimbledon. Over in the US of A...
Andy Murray Instagram

...actress Kate Beckinsale checked into ER (a real one, not the TV series) with a ruptured ovarian cyst. Click right for her bed. Now back home, she should be OK for the Oscars. Good Morning America...
Kate Beckinsale Instagram

...has the medical info and her reason for going to the Gram.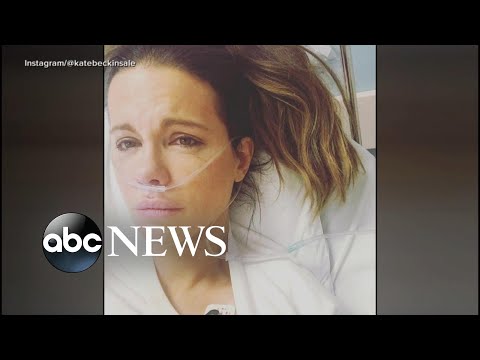 Good Morning America

LET ME BE BLANK - Kevin Spacey reprises 'Let Me Be Frank' Underwood : 'I know what you want'. Click below - it's Frank, not blank.
Kevin Spacey Instagram

'LESS BOASTING, BECKS' - 'Why do celebrities such as Rio Ferdinand and David Beckham persist in flaunting their lavish festive arrangements on social media. Don't they realise that for many, this can be a very difficult time of the year and that being constantly reminded of other people's success isn't helpful?' (Sarah Vine, Daily Mail) Answer...

...can be found in the great words of Zero Mostel from 'The Producers' : 'That's it, baby! When you got it, flaunt it. Flaunt it!' So, over to...

Straussian

...Becks : 'Happy New Year from us all' and...
David Beckham Instagram

...Rio : 'Lunch in the sea with the 🦈🐠🐬😍 What a place with the family🙌🏽 I was dribbling at this point😅 5.8 restaurant'
Rio Ferdinand Instagram

CHERYL WHO? - 'I've had too many surnames. That's just the crazy choices I've made along the way'. Why, Cheryl, why? 'It wasn't my fault : Love Made Me Do It'. Anyway...
#lovemademedoit Instagram

...the name is Tweedy, Cheryl Tweedy ; 'Such a pleasure shooting with @maryamccartney for @theststyle. Grab yourself a copy today or swipe up in my stories for the full interview 🖤' and discover she's 'got the man of my dreams'
Cheryl Instagram

SPLIT - 'Made in Chelsea' stars Binky Felstead and Josh 'JP' Patterson ave split : official announcement on Insta
Binky Felstead Instagram

DID MOMMA WIN? - baby Alexis Williams Wears mini version of Mum Serena's tulle US Open dress : elliepzamOmg! '😍See you at the finals! Go S 🙌🏼'
Serena Williams Instagram

HOT BOT - thnx to 'hottie with bottie' Eleanor Wellesley (the Duke of wellington's niece) for gram from Burning Man festie where her choice of outfit was not to everyone's taste : rnrnrn1234 msg 'You can delete the comments, but your insistence to culturally appropriate means you are missing out on real connectedness and humanity that you *think* you experience at burning man. This photo is going to haunt you in your career. Deleting the people calling you out won't hide you from being racist'
Eleanor Wellesley instagram

HOT BOOB - no such 'culture appropriate' concerns about Eleanor's front elevation : diamondchopsticks msg 'Hotdamn'
Eleanor Wellesley instagram

LIZZIE GARDEN - swimwear entrepreneur Elizabeth Hurley messages 'Homeland 7 beckons after a glorious afternoon in the garden with my new strimmer and hedge trimmer'. As Liz is a bikini aficionado who also takes great pride in her appearance Socialista can't help wondering if 'in the garden with my new strimmer and hedge trimmer' is some kind of euphemism for beach body readiness?
Elizabeth Hurley Instagram